Everence Regional Journey Award winner for Souderton area
Everence® recognizes David D. Yoder of Harleysville
David D. Yoder is this year's recipient of the Regional Journey Award from the Everence Financial® office in Souderton.
The award recognizes Yoder, of Harleysville, for his stewardship related to his years of service to organizations including Quakertown Christian School and Virginia Mennonite Missions. Created in 2001, the Journey Award highlights what people of faith are doing as stewards of their God-given gifts.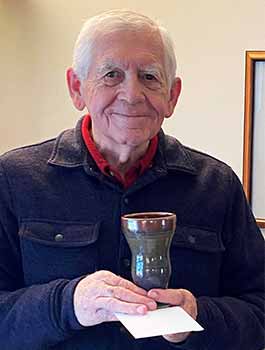 "David's life and career have represented stewardship not only of resources but also his time," said Anita K. Souder, Director of Advancement for Quakertown Christian School. "With a heart to serve others and using his gifts of development and genuine care for people, he prepared QCS for the future by creating a family of endowments."
Randy Delp, Everence Managing Director, said, "People who've worked with David point with great respect to his efforts to establish Anabaptist communities in Mexico, as well as his work to strengthen partnerships in other parts of the world, including Europe and the Caribbean."
Yoder attends Salford Mennonite Church, Harleysville.