2018 pie contest draws over 300 in Sarasota
Great turnout again for the annual Pinecraft event

This year's Everence® Financial/Pinecraft Pie Contest attracted over 300 people and 27 delicious pies.
"We always look forward to this chance to bring people together for community fellowship, great food and friendly competition," said Kjell Purnell, CFE, Regional Director and Financial Advisor for Everence. "We'd like to thank our judges - Robin Wild, Mary Yoder, Henry Detwiler and everyone who helped to plan and organize our annual event this year."
The contest categories were cream pie, one-crust pie and fruit pie.
Winners were:
First place:
Fruit: Fresh Blueberry by Martha Garber
Cream: Pecan Cream by Linda Gingerich
One crust: Laura Beiler
Second place:
Fruit: Vintage apple by Creta Byler
Cream: Raspberry Cream by Esther Overholt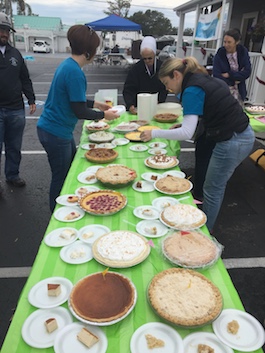 One crust: Cream Cheese Custard by Ada Lambright
Third place:
Fruit: Apple Cranberry Struesel by Ada Lambright
Cream: Key lime by Shirley Lapp
One crust: German Chocolate pie by Delores Chupp
After the pie contest prizes were presented, those in attendance enjoyed lunch including chili and, of course, pie.

Pie contest judges included Robin Wild (Der Dutchman), Mary Yoder (Yoder's Restaurant), Henry Detwiler (Detwiler's farm market).